Breakfast at Alaska's Capital Inn B&B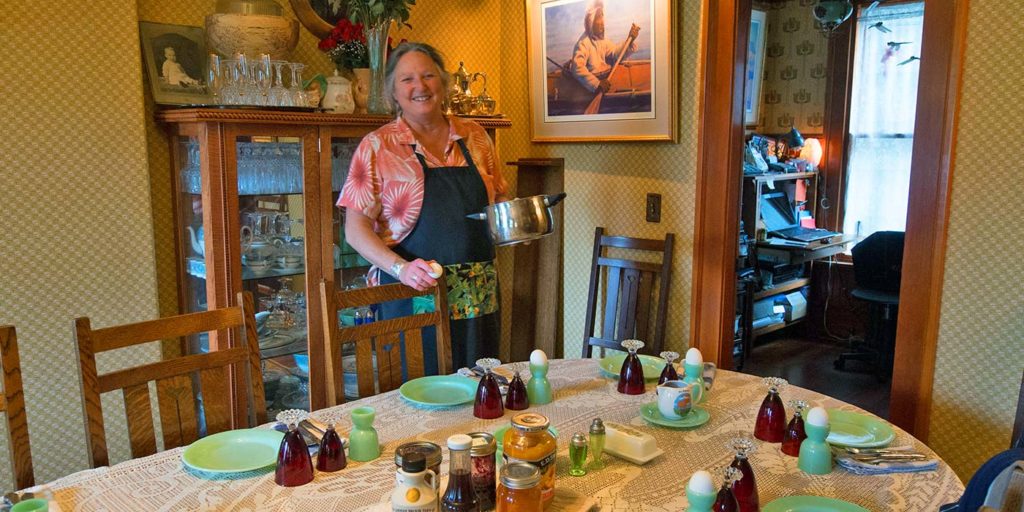 "Breakfast is practically a gift from the heavens, with a variety of seafood dishes."
– FODOR'S
The aroma of fresh roasted coffee announces breakfast, a multi course affair, served family style in the formal dining room. Guests are welcome to come grab a cup of tea, or coffee, the morning paper, and watch the sunrise over the front porch. Bathrobes and slippers are provided in all the rooms.
One thing we consistently hear over and over from our guests is, "it feels so much like home here". So naturally, we prepare and serve a home cooked breakfast every morning. With the aroma of rhubarb muffins baking, or double smoked ham warming, guests gather around an oak pedestal table in the formal dining room where the table is elaborately set with antique glassware and china from another era.
Guests' favorite recipes are the dungeness crab eggs benedict and our Alaskan sourdough pancakes with thick cut smoked bacon. We also serve a special home made granola along with a variety of juices, teas and sweet treats. We also accommodate special dietary needs, so let us know when making your reservations. We also pack breakfast bags to go for those leaving early on tours or early morning departures.
If a healthy home made breakfast is important to you when considering a place to stay, you have come to the right place!
Our signature dish is crab Benedict served on Linda's grandmother's classic Fire King Jadeite dishes.
Sourdough blueberry pancakes with honey-roasted ham
Reindeer sausage and smoked salmon quiche, with crispy home fries
Rhubarb fresh from the garden, muffins with homemade granola and raspberry smoothies
Served family-style at 8 am daily
Locally sourced seafood, berries, greens, and kelp salsas and hot sauce
Locally ground fresh coffee, available 24 hours a day hot tea selection, as well as hot chocolate
Fresh fruit and muffins to start breakfast,
A hot cooked main dish, and even dessert!
Snacks
– Homemade cookies in a bottomless jar
– Snack bar open all-day
– Complimentary wine in the afternoon