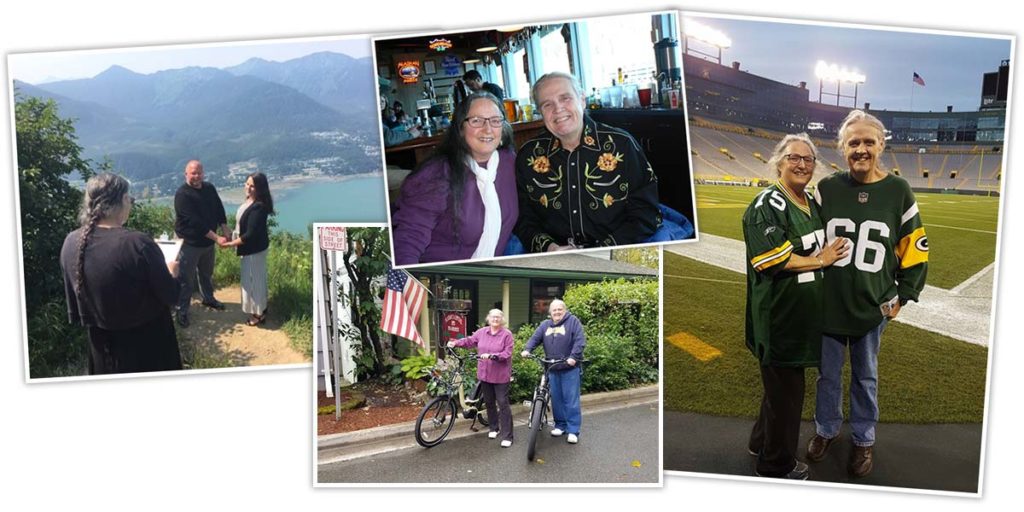 Linda and Mark have spent more than half their lives in Southeast Alaska fishing, hiking, working, climbing, and paddling throughout the Panhandle and Inside Passage. We are intimately familiar with the area and feel confident in our recommendations of things to do, the right hiking trail, the best fishing hole, calm kayaking coves, and the best tour operators. Experience and local knowledge here is everything.
Since this our home, you can expect our personal attention while you are here. Guests welcome and appreciate our interactions and we believe our personal attention enhances their experience during a stay at the Inn. We like being old fashioned here at the Inn, especially in these days where you may never meet the innkeeper or only at checkout time. Breakfast conversations are always a highlight at the Inn. Mark sometimes recounts old commercial fishing stories, or tales of marauding black bears in the raspberries, or the fine points of refinishing the Inn. Linda loves educating guests on the keys to remembering the five species of pacific salmon, or how to identify an oosik and some whale baleen. Linda is also a master gardener and a wedding commissioner.
Linda first arrived in Ketchikan back in 1970, fresh off the ferry after a trip from the family farm in Nebraska. Her family settled there, where she attended high school and after graduating from the University of Idaho, returned to Juneau to work and live. Mark hails from Wisconsin, born and raised there. After graduating from the University of Wisconsin he followed a good friend to Juneau landing off the ferry in 1975. Since then he has been a commercial fisherman and also spent some time working for the state government.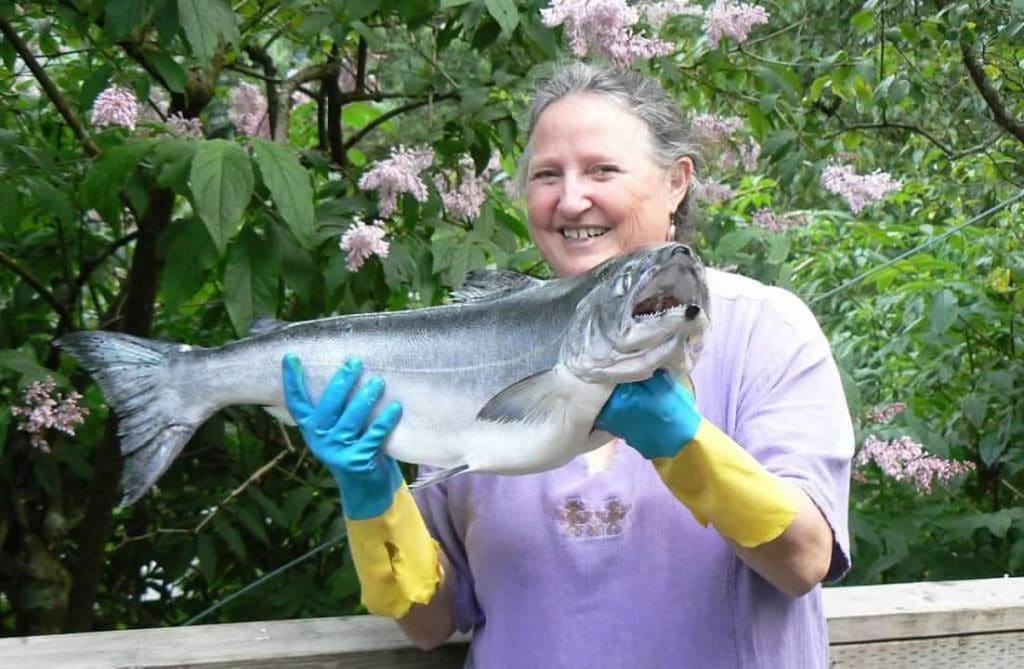 Linda holding a salmon, which will be used in our Salmon Eggs Benedict
"Most of all we've been touched by your spirit, generosity, and good humor. Thank you so much for adding a very special insight into the real Alaska spirit".
SUE & LINDA, ANN ARBOR